To draw attention to the Jeni's booth, letters used by classic ice cream parlors as well as current Jeni's scoop shops spell out a Jeni's slogan, "FLAVOR IS EVERYTHING."
The purpose of this design is to highlight these elements of the Jeni's brand and mission, as well as utilize existing elements of the website, packaging, copy, and scoop shop interior design of Jeni's scoop shops.
The Flavor Wall installation in the corner uses the vivid colors of Jeni's pints in a play on Pantone swatches. A physical (empty) Jeni's pint is attached to each "swatch", to showcase their unique package design and excite visitors about the wealth of unique flavors.
In the age of social media, this wall also serves as an immersive backdrop for photos, and stories. Due to the amount of influencers who attend Expo West each year, active posts by attendees will encourage a continuing flow of visitors who are excited to experience what is on others' feeds.
The samples table serves as a center for welcoming visitors into the Jeni's experience, but visitors are able to move through the booth however they wish, starting with either the Flavor Wall or the samples table. Here, visitors can interact with a Jeni's team member, which allows them to put a face to the brand — another way to emphasize the values of community and humanity at the core of Jeni's mission.
They are also able to sample a number of unique Jeni's flavors, which are laid out on the table in small paper sample cups (a sustainable solution to plastic cups and utensils).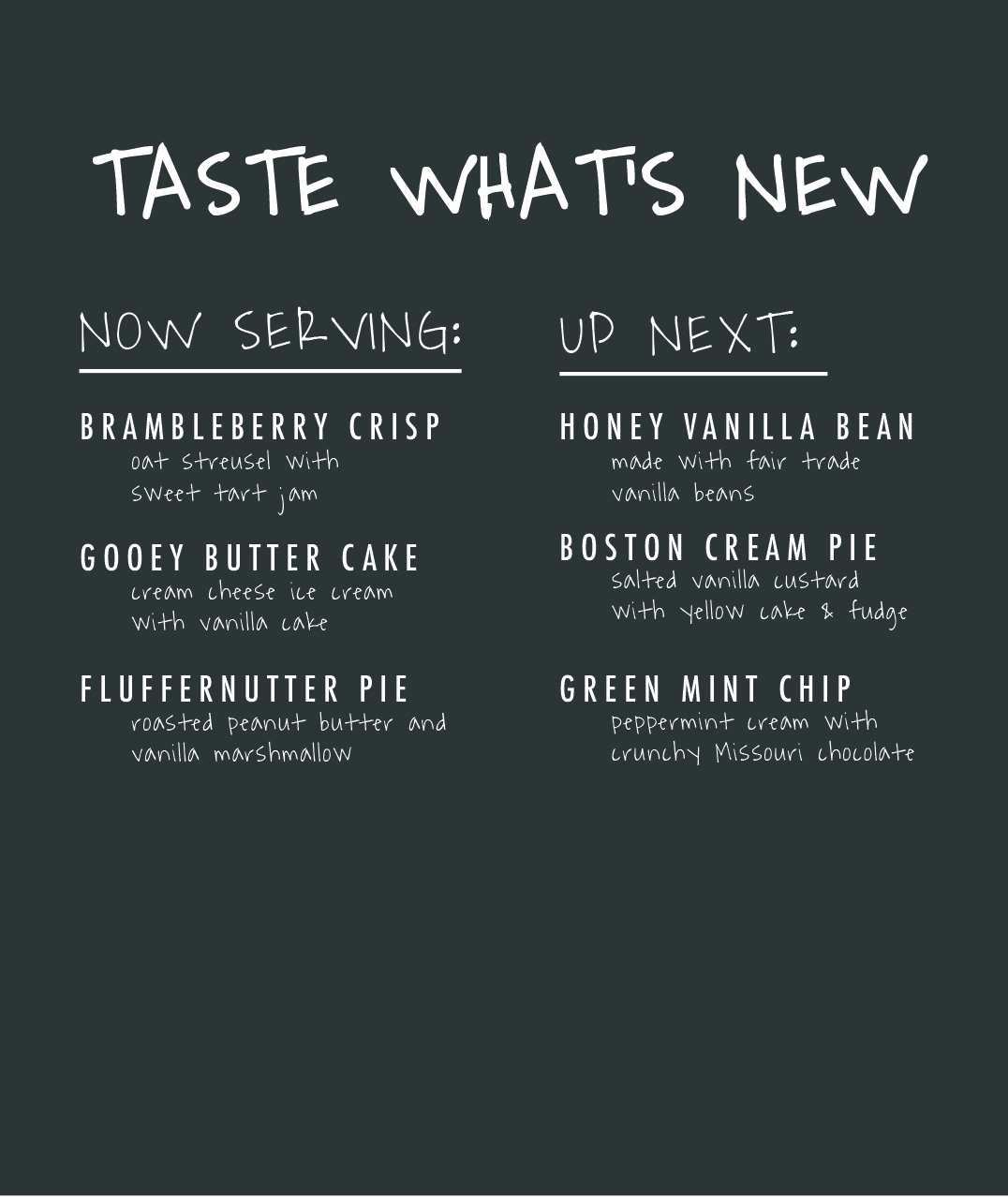 These flavors are also listed on the chalkboard wall behind the table, which serves a number of purposes. The title "Now Serving" signals to trade show attendees from far away that something active is happening at the booth, which will incite them to visit; the "Up Next" column allows them to get excited about what will be served next and encourages visitors to keep coming back to the booth, generating further interest. The hand-written chalkboard also adds a human element to the design to create a welcoming, familiar experience, while also recalling the way that Jeni's scoop shops lists the flavors available.